DeMarcus Cousins (aka "Boogie") was ejected from Wednesday's game against the Memphis Grizzlies, and now he gets to add another fine to his resume, as first reported by Adrian Wojnarowski of ESPN on Twitter:
The NBA has fined New Orleans center DeMarcus Cousins $25,000 for "inappropriate language" directed at a fan in loss to Memphis.

— Adrian Wojnarowski (@wojespn) October 21, 2017
We've seen lash-outs from Cousins before, including profane-laced rants at fans, and this can just be another one to add to the ever-growing list of attitude problems with Cousins. Boogie tried to explain what happened and defend himself to reporters after the game:
"She dropped a couple "F" bombs and flipped me off and I don't think that was right," Cousins said, according to the New Orleans Advocate. "That's pretty bogus. He [the referee] sat there and heard her speaking to me in a nasty way. I shouldn't have responded to it, but I'm a human being and I'm also a grown man and I'm not going to let another person just disrespect me. I feel like he [the referee] should have handled it, but he decided not to but he handled my end of it."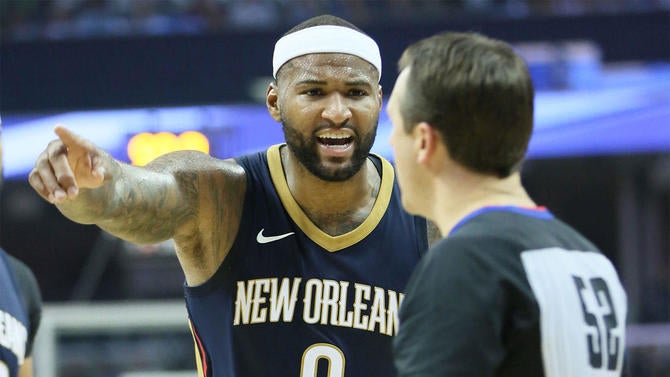 Cousins arguing with referee about the fan PC: cbssports.com
Personally, I think that you have to learn to back down in those types of situations, and not drop to the level of the fans. There's a reason why Cousins gets paid the type of money that he does, and part of that has to be a type of professionalism to tune out the haters and perform for your team and your city, as well as the fans who pay good money to support you. Right now, actions like this tarnish an extremely talented player into a player with an "attitude". Cousins has also been given the most technical fouls of any player over the last two seasons, and the trend doesn't seem to be stopping anytime soon.
What do you think? Should Cousins have backed down, or does he have the right to defend himself when fans start to berate and attack the players on the court?