Detroit Lions
Detroit Lions Might Have Started Out 1-3 But Here Is How They'll Regroup This BYE Week and Finish 11-5 | #OnePride
You more than likely just read the headline of this and said "is this guy an idiot?" I might be.
Although after Detroit lost to a beat up New Orleans Saints team and I was calling for the firing of head coach Matt Patricia – I still believe this team can possibly turn the season around! Shocking. Right?
I was hoping that Detroit would let go of Matt Patricia and keep the staff for the season. Allow Brayden Coombs, 33, special teams coordinator to finish the season as head coach. With a couple of games coming up against opponents Detroit should beat I figured that now was a good time as Detroit would be heading into the BYE week.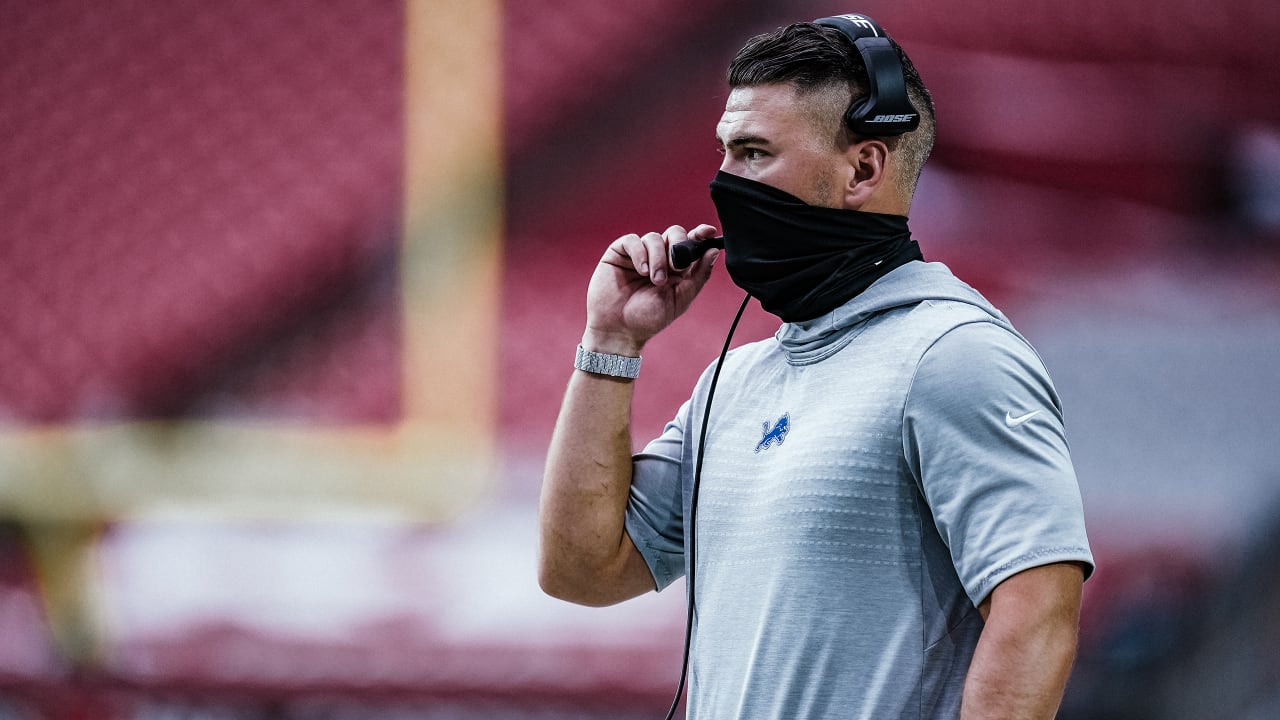 That isn't going to happen. With the Lions GM not making a head coaching move heading into the BYE it basically shows that GM Bob Quinn is making it clear that it's Patricia or BUST with him. His job is tied to the success of Matt Patricia and he's going to ride that out. Players need to play better as well but it's clear the coaching hasn't been where it needs to be.
Detroit has shined at multiple times throughout the start of the season but once again they can't close out games. It's ridiculous. Blown leads are sickening. Detroit didn't have a lead going into the one game they won so far this year, maybe they shouldn't try to have the lead going into the fourth?!.
Detroit must start blitzing more to win. They need to contain the run along with taking more chances down field. Also would like to see motion from WR's/Backs more before the snap to get the defense moving.
With the BYE week upon us – this is how Detroit can possibly finish the season with 11 wins. The next couple of weeks are key for Detroit with gaining momentum and heading into a harder part of the schedule.
Before I jump into my game predictions and explain why, here is Detroit's final games:
AWAY AGAINST JACKSONVILLE [1-3]
AWAY AGAINST ATLANTA [0-4]
HOME AGAINST INDY [3-1]
AWAY AGAINST MINNESOTA [1-3]
HOME AGAINST WASHINGTON [1-3]
AWAY AGAINST CAROLINA [2-2]
HOME AGAINST HOUSTON [0-4]
AWAY AGAINST CHICAGO [3-1]
HOME AGAINST GREEN BAY [4-0]
AWAY AGAINST TENNESSEE [3-0]
HOME AGAINST TAMPA BAY [3-1]
HOME AGAINST MINNESOTA [1-3]
Just looking at the record of all the teams there is a couple of games coming up that are must wins for Patricia – let's go over them.
Jacksonville [1-3]
Minshew mania isn't looking all that bright for Jacksonville to start the season. A win week one but three straight loses has Jacksonville worried. Jacksonville has Houston this weekend – a team who just fired the head coach. This is a must win for Jacksonville. If they lost against Houston – it proves Detroit's chances even more!
Detroit will be coming off of a BYE week where the entire team knows everyones job is at risk.
Detroit goes to: 2-3
Atlanta [0-4]
Atlanta is a lot like Detroit. A team that blows fourth quarter leads. If we look at the QB battle – I would take Matthew Stafford over Matt Ryan. This game is going to comedown to the quarterback play and I'll take Stafford all day.
ATL HC Dan Quinn is on the hot seat – they have Carolina, Minnesota, and Detroit coming up on the schedule. This is the time for Dan Quinn to save his job – I don't think he will.
I possibly feel that Quinn is going to be fired the week before the Lions game and the team is going to be very lackluster going up against us.
Detroit goes to: 3-3
Indianpolis [3-1]
Indy is a good football team. They're playing good ball. They lost week one against Jacksonville but since then beat Vikings, Jets, and Bears. This game will be huge for Detroit if they're 3-3 going into it.
I believe that Phillip Rivers is still a turnover machine. If Detroit can take advantage of the bad balls thrown by Rivers, Detroit can pull away win a dub. If you follow me on Twitter you've probably seen me compare Rivers to Matthew Stafford – I see similarity in both of them.
Detroit goes to: 4-3
Minnesota [1-3]
Minnesota didn't start the season exactly how they planned but have played better football the last two weeks. Although they lost to Tennessee by one point they bounced back against a Houston team who fired the coach after the game.
Minnesota vs. Detroit – being a division game – you never know what to expect but I believe Detroit is a better team than Minnesota.
Detroit goes to: 5-3
Washington [1-3]
The Washington Football Team is the most confusing team in the NFL. What are they doing at quarterback? Every day it seems as if they're changing someone out.
This season is going to be nothing but a roller coaster for them. The name change, head coach having cancer and they don't have any easy schedule at all!
Being in the NFL East – it's possible that they turn it around.
I don't see it happening.
Detroit goes to: 6-3
Carolina [2-2]
Carolina has won two games in a row after starting off 0-2. This is going to be a huge game if Detroit has momentum going into this game. Is Teddy Bridgewater a good enough starter? We will see.
Detroit has Carolina at home and if they can stop the run. Huge IF. They can possibly get a win against a Carolina team that is a solid football team.
Detroit goes to: 7-3
Houston [0-4]
Houston just fired head coach Bill O'Brien after getting in an argument with players and coaching. Houston started 0-4 and they're a better football team then the record show.
There is a good chance they start to turn the season around – looking at this game right now… This should be a win for Detroit.
Detroit goes to: 8-3
Chicago [3-1]
Detroit had a lead against Chicago in week one and blew it. The story of Matt Patricias coaching career in Detroit, blowing games. If Detroit gets to 8-3 this game is a must win for Detroit. Who will Detroit play? Mitch Trubisky or Nick Foles?
Chicago is an overrated 3-1 team and they proved that in week four while they lost to Indy.
Detroit goes to: 9-3
Green Bay [4-0]
I truly believe Green Bay is the best team in the NFL right now and I don't see them slowing down. If they do and Detroit get's hot down the stretch this would be an interesting game.
I have Green Bay winning this game.
Detroit goes to: 9-4
Tennessee [3-0]
Who knows what'll happen to Tennessee. If they have to reschedule games it might get hard on the team. Although they're 3-0 they've only won by a total of 6 points! Won by 2 week one, won by 3 week two, won by 1 in week three.
Tennessee is beatable. But at this point though Tennessee will beat Detroit.
Detroit goes to: 9-5
Tampa Bay [3-1]
This is a game that Detroit will upset in. Matt Patricia beat Tom Brady while he was in New England and Detroit played him. I think that he'll do it once again. Down the stretch at this point in the season Tampa Bay will have a playoff game locked up and will be looking to keep players healthy.
Tampa's final three games are against Atlanta, Detroit, Atlanta. They possibly might be using backups in the final couple of games if they have a playoff spot locked up. Detroit gets a huge win to advance to 10-5.
Detroit goes to: 10-5
Minnesota [1-3]
This game would be huge for Detroit. Probably the biggest game in Detroit history. A division game to head into the playoffs against Minnesota.
If Detroit is 10 – 5 going into this game – there isn't anyway I see them losing this. Obviously we will get a good look at Minnesota and Detroit in week 9.
Detroit goes to: 11-5
__
I know you're probably still thinking I am crazy. I think I'm crazy too. I doubt that this will happen, but it's possible. Take care of the ball, stop the run and blitz for once!
Do me a favor? Follow me on Twitter? – @TrevStoneCEO