This weekend in sports
The MLB divisional series are in play, the NFL just finished up week 5 of it's season and a college legend retires. This past weekend was a crazy weekend for sports, the Cubs and the Mets both got  a pair of big wins at home last night giving them both a 2-1 lead in their respective series. The Mets broke their postseason scoring record last night against the Dodgers as they won 13-7 in Citi Field's first playoff game. The Cubs broke a MLB postseason record by hitting 6 home runs in their 8-6 win over the NL Central champion St. Louis Cardinals. Both of these teams made some history this weekend and both have chances to advance to the NLCS (National League Championship Series) tonight. In other MLB postseason news, both ALDS series are tied at two a piece, the Royals beat the Astros last night to tie the series as well as the Blue Jays beating the Rangers to tie their series (Remember the MLB divisional series are best of 5).
In the world of the NFL, week 5 ended with a last second, game winning rushing touchdown, which gave the Pittsburgh Steelers(3-2) a 24-20 win over the San Diego Chargers (2-3). Other news from the NFL this weekend was that there are still six remaining undefeated teams left in the NFL, the Cincinnati Bengals (5-0),  New England Patriots (4-0), Denver Broncos (5-0), Atlanta Falcons (5-0), Carolina Panthers (4-0) and the Green Bay Packers (5-0). Sadly there is still one team that has not gotten a win so far, the Detroit Lions (0-5), who loss to the Arizona Cardinals 42-17.  In injury news, the Chiefs star running back, Jamal Charles, tore his ACL and will miss the remainder of the 2015 season.  Oh yea and the Texans(1-4) still have a quarterback problem as they lost to the 40 year old Matt Hasselbeck and the Indianapolis Colts(3-2) on Thursday night football.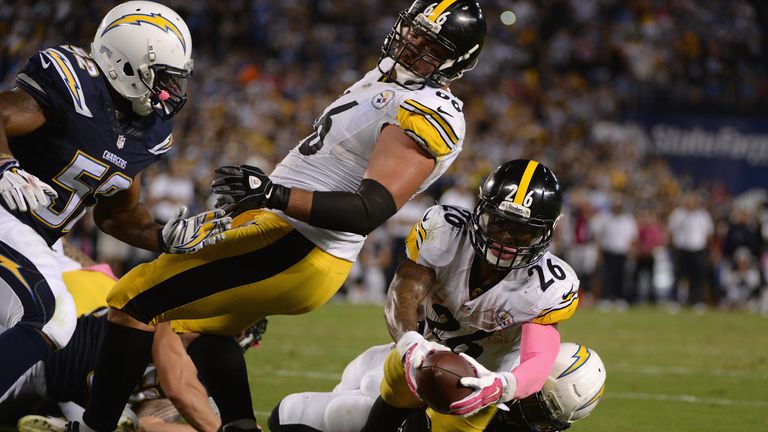 Maybe the biggest news of the long weekend is that South Carolina Gamecocks coach Steve Spurrier retired at the age of 70. Spurrier had a career 228 wins in his 25 year coaching career and also won the Heisman trophy in 1966, Shawn Elliott will become the interim head coach for the Gamecocks. Another prominent coach, Steve Sarkisian, who coached for the University of South California (USC) was fired from his job. College football lost two of it's coaches this weekend, but also gained a couple prominent open positions for coaches looking for a job in college football.
Photo Credits:
http://www.gannett-cdn.com/media/WLTX/USATODAY/2014/04/24//1398392675000-spurrier.jpg
http://e2.365dm.com/15/10/16-9/20/leveon-bell-pittsburgh-steelers-leveon_3363079.jpg?20151013063801
https://thenypost.files.wordpress.com/2015/09/cespedes42.jpg
Featured Image:
http://media.graytvinc.com/images/CUBS+VS+CARDNALS.jpg