FINAL

MIN
ATL

3
8

FINAL

LAD
MIL

9
2

FINAL

CIN
NYM

7
4

FINAL

OAK
TEX

1
3

FINAL

ARI
COL

1
4

BOT 9TH

WAS
SF

1
1

TOP 9TH

TB
TOR

2
2

7:00 PM ET

NYY
BAL




7:05 PM ET

SEA
LAA




7:05 PM ET

DET
CLE




7:05 PM ET

CHC
PIT




7:10 PM ET

PHI
MIA




8:10 PM ET

BOS
CWS




8:10 PM ET

KAN
HOU




10:10 PM ET

STL
SD



**Phone Line Open 24/7: Get Your PSE Apparel Today! CALL: (205) 377-6790**
Second Graders Correct Tweets From NFL Players
We've seen athletes not being able to spell on twitter. Second graders from Elmwood Franklin corrected some of the players tweets.
Second graders are serious fans of football—and grammar! Elmwood Franklin School's second grade students applied their lessons in proper sentence structure, noun and verb usage, spelling, and punctuation to correct the tweets of professional football players. The students partnered in groups and together found several mistakes in these tweets, including the incorrect spelling of "a lot." Said the schools facebook page.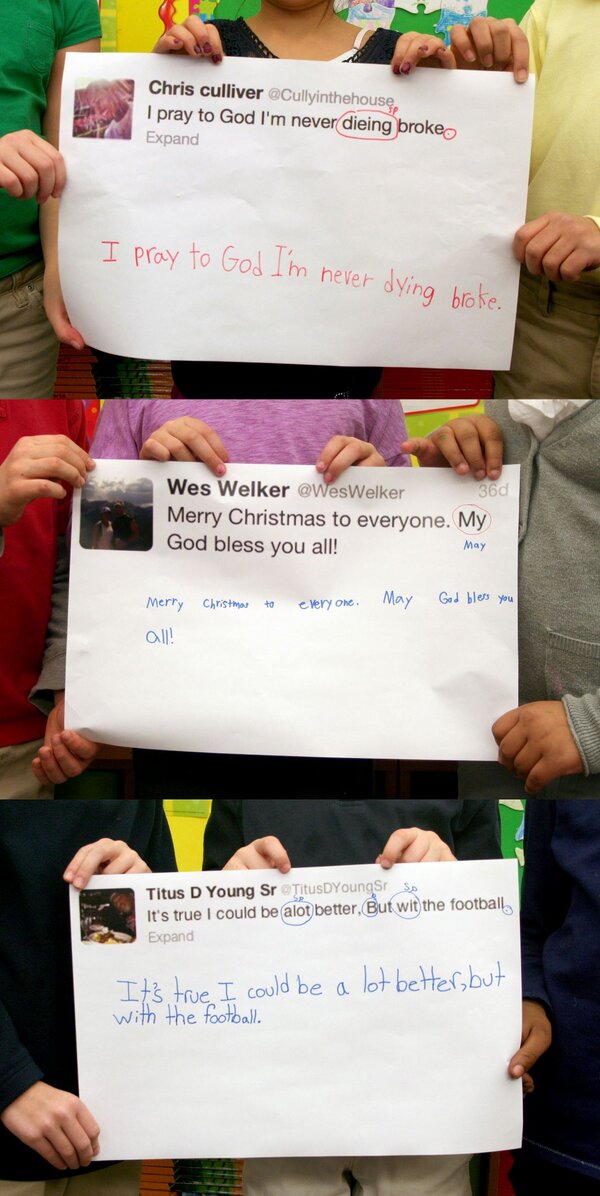 Trevor Uren
Hello, I am Trevor Uren the founder of ProSportsExtra. I am 15 years old, have a big passion with sports. I currently play basketball and football for the high school I attend, L'Anse. I am a huge Detroit fan. A fan of just about anything with Detroit sports. Also I hope to someday attend Bradley University if I am to attend college.
Latest posts by Trevor Uren (see all)